The Holy Family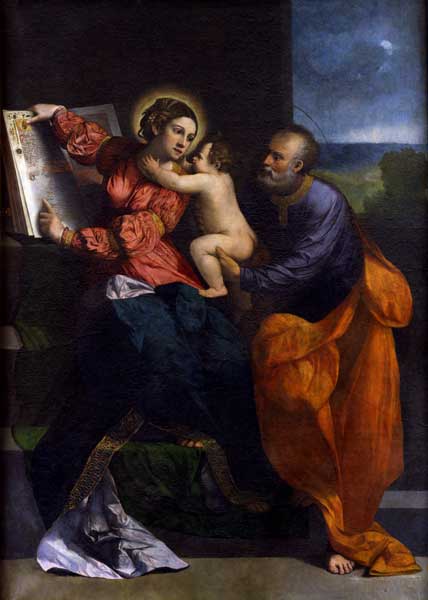 Author:
Dosso Dossi (Giovanni Luteri, Ferrara 1489 ca. - 1542)
Origin:
Roma, Collezione privata Pio (fino al 1750)
Sacra famiglia con la Madonna sulla sinistra, seduta sul secondo gradino di una scala in pietra grigia, con il busto in torsione verso destra e le braccia in atto di sostenere un manoscritto miniato aperto; il capo è rivolto in direzione del figlio, cui sembra indicare un passo del testo. Il Bambino, nudo, nel profilo sinistro, tende le braccia verso la madre ed è sostenuto da San Giuseppe, stante, sulla destra della composizione. Sul fondo a destra si apre un paesaggio lacustre.
The hall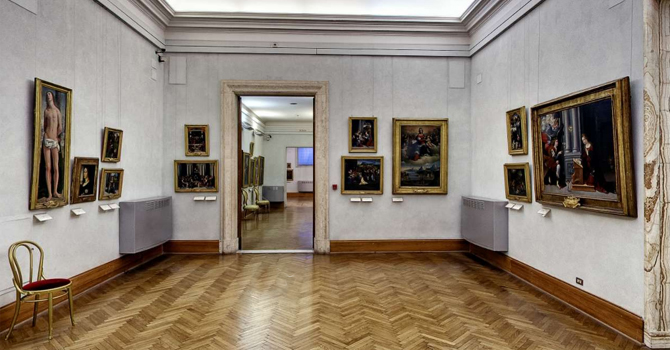 The room houses paintings coming from Ferrara, the capital of a small independent duchy, ruled by the Este family, whose polished court attracted many writers and artists. The formal elegance is the main element of the artistic production of Ferrara, one of the main centres of Italian Renaissance.
You may also be interested in