Hall of Hannibal
Of all the rooms in the fifteenth-century Palazzo dei Conservatori, this is the only room that has maintained its original proportions. 
The frescoed decoration dating back to the first decade of the XVI century and traditionally attributed to Jacopo Ripanda celebrates episodes of the Punic Wars in four scenes; underneath runs a long frieze with niches containing busts of Roman generals. 
he wooden ceiling, carried out a short time after the frescoed decoration, bears a carved image of the Capitoline She-Wolf at its centre.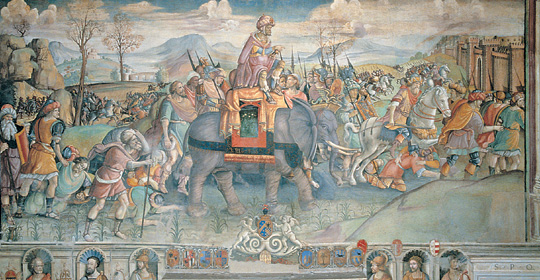 The hall, dedicated to some episodes of the wars Rome fought against Carthage, takes its name from the image of Hannibal on the central wall, a partly naïve and partly fantastic representation.
The frescoes on the walls, usually attributed to Jacopo Ripanda (a Bolognese painter documented between 1485 and 1516), represent the most comprehensive evidence of the first decorative cycle of the building, made in the first decade of 1500.
 The historical scenes are framed by angular pillars with grotesque candelabra on a golden background, below there is a frieze with busts of Roman generals and a grotesque decoration which shows some blank spaces due to the insertion of inscriptions, subsequently removed.
 The influence of ancient art on the painters who worked to this series of frescoes is peculiar, as you can see in the scene of the naval battle which reproduces figurative patterns of Trajan's Column, or in the elegant drawing of the grotesques in the decoration.
 In the middle of the wooden ceiling, the oldest one in the Palazzo, made between 1516 and 1519, the She-wolf suckling the twins appears for the first time, used as a decorative element and as a symbolic reference to the foundation of the city.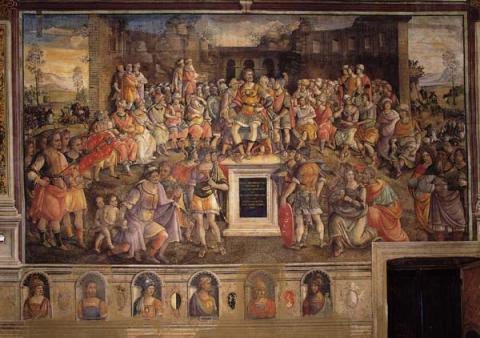 Beginning of 16th century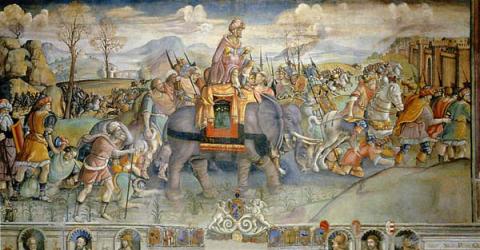 Beginning of 16th century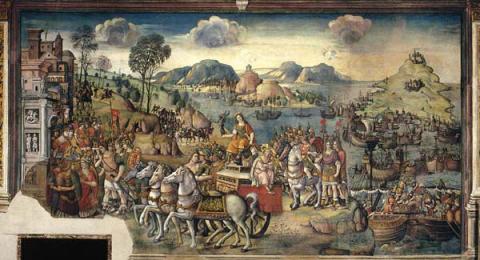 Beginning of 16th century