Statue of Wounded Amazon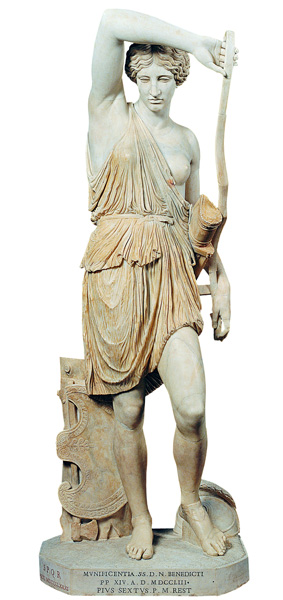 Year:
From an original by Phidias. Head: replica of that of the Amazon by Polykleitos
La scultura è generalmente identificata con il tipo della Amazzone ferita che si fa risalire al modello scolpito da Fidia, il quale avrebbe ripreso il tema dell'Amazzone vinta, caro alla cultura ateniese del V secolo a.C.. Il gusto delicato e luministico del panneggio avvicina questo tipo alle Amazzoni rappresentate nel fregio del Partenone. L'appoggio è sulla gamba destra, e anche il braccio destro è sollevato a trattenere l'arco. La statua proviene da Villa d'Este (in antico facente parte del perimetro della Villa Adriana) e fu donata da Papa Benedetto XIV nel 1753. La comprensione del tipo è resa molto difficile dai consistenti restauri, quasi una ripresa totale del mtoivo dell'Amazzone ferita, operati dallo scultore Bartolomeo Cavaceppi, al quale si deve un gran numero di interpolazioni settecentesche.
The hall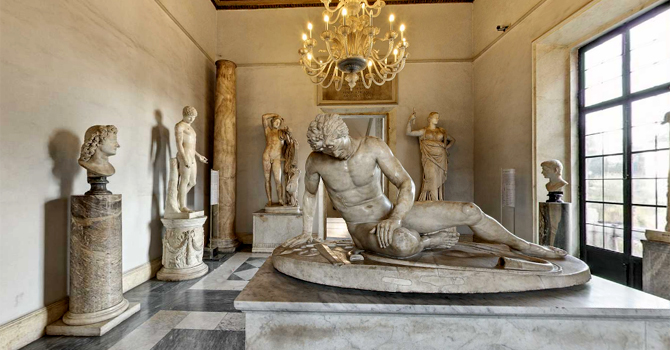 The centre of the room features the so-called "Dying Galatian", one of the best-known and most important works in the museum. 
It is a replica of one of the sculptures in the ex-voto group dedicated to Pergamon by Attalus I to commemorate the victories over the Galatians in the III and II centuries BC.
You may also be interested in