The Age of Anxiety
Immagine: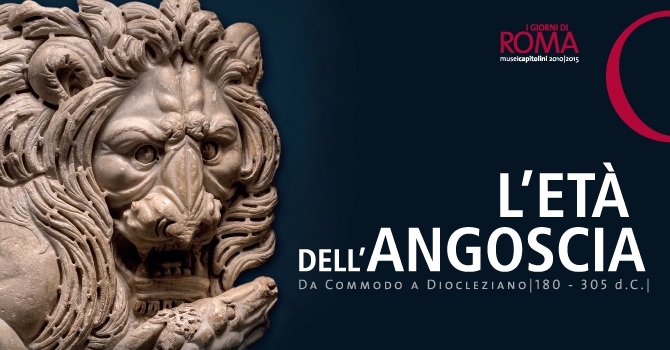 From Commodus to Diocletian (180-305 AD)
28/01 - 04/10/2015
Musei Capitolini
The exhibition The Age of Anxiety, the fourth appointment of the cycle "I Giorni di Roma", aims to deepen the knowledge of a historical period of great change that marked the age between the reigns of Commodus (180-192 AD) and Diocletian (284-305 AD).
In less than one hundred fifty years, in fact the Empire changed its character, coming to the establishment of the Tetrarchy, the loss of the role of the capital city of Rome and the  organization of the Italian territory, which was subdivided into dioceses that were equated to the rest of the Empire. 
Ancient historians reflect on these profound changes in their world, as one can read in Cassius Dio's books, who at the beginning of the third century AD referred to the end of the reign of Marcus Aurelius as the end of the golden age: After his death, history descends from a kingdom of gold to one of iron and rust.
The decisive factor was the end of dynastic transmission of political power, which was subsequently concentrated in the hands of the army, capable of imposing the emperors and eliminate them.
It is a world that permanently changes its social structure, with the collapse of its institutions and the emergence of new social forces.
Information
Opening hours
28 January - 4 October, 2015
Open daily, from 9.30 to 19.30;
Last admission 1 hour before closing time;
Please Note: please check our Notice page for special openings and/or temporary closures 
Entrance ticket
Every first Sunday of the month free admission, except for the Ara Pacis new exhibition space, for residents in Rome and in the metropolitan city area. 
Museum + Exhibition (L'età dell'angoscia. Da Commodo a Diocleziano) Combined Ticket: 
Adults: € 15,00;
Concessions: € 13,00;
Ridottissimo special price: € 2,00*;
Roman Citizens only (by showing a valid ID): 
Adults: € 13,00;
Concessions: € 11,00;
Ridottissimo special price: € 2,00*;
* Please note: According to the Municipal by-law, due to the exceptionality of the exhibition, people usually entitled to free admission must purchase a € 2,00 concessionary ticket.
However, free admission is granted to children under 6 years, groups of elementary and (lower) middle schools, to visitors with disabilities and a family member or a carer who can prove that they belong to social and health care services, and RomaPass holders (if used to access the first 2 sites).
Capitolini Card (valid 7 days) "Capitoline Museums + Centrale Montemartini + Exhibition ("L'età dell'angoscia. Da Commodo a Diocleziano")" Combined Ticket: 
 Adults: € 16,00;
 Concessions: € 14,00;
 Roman Citizens only (by showing a vaild ID): 
 Adults: € 15,00;
Concessions: € 13,00;
Concessions and Free Admission: Conditions
Tickets can be purchased with also credit cards and ATM.
Online tickets
Just show your printed receipt at turnstiles of the Capitoline Museums and the Ara Pacis Museum; no need to go to the ticket office.
Audio guides in Italian, English, French, German, Spanish: € 5,00;
Audio guides for children in Italian and English (recommended age: 6-12 years): € 4,00.
Information
Infoline: +39 060608 (every day from 9:00 to 21:00)
Type
Exhibition|Archeology
Other information
Promoted by: Roma Capitale, Assessorato alla Cultura, Creatività, Promozione Artistica e Turismo - Sovrintendenza Capitolina  
Organized by Zètema Progetto Cultura, MondoMostre  
Civic Museums Sponsors: Banche Tesoriere di Roma Capitale: BNL – Gruppo BNP Paribas, UniCredit, Monte dei Paschi di Siena, Mastercard Priceless Rome, Vodafone
With technical contributions from
ATAC
Security service: Travis Group
Curator
Eugenio La Rocca, Claudio Parisi Presicce, Annalisa Lo Monaco
Catalogo
2015, 468 p., ill., brossura, 3 ed.
Documents
Eventi correlati
Currently there are no ongoing activities.
There are no planned activities.