Colossal statue restored as Oceanus: "Marforio"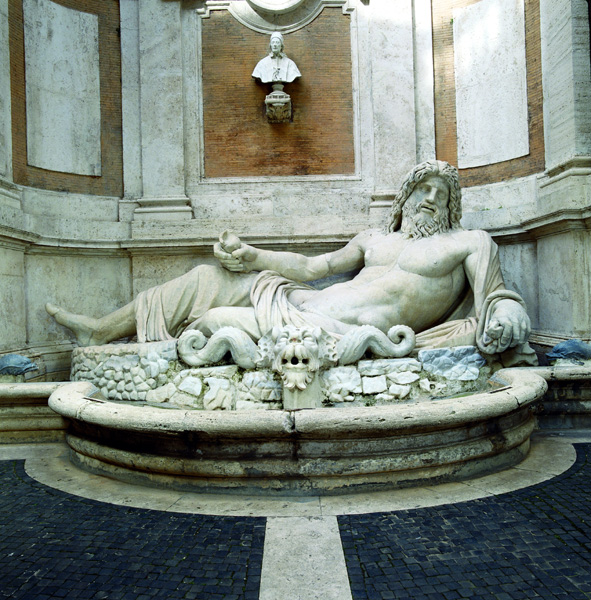 Size:
dalla testa alla superficie del basamento alt. 242 cm, larg. 610 cm, statua e basamento larg. 610 cm
Origin:
From Rome, near the church of S. Pietro in Carcere
La divinità, con folta capigliatura e barba, è raffigurata semisdraiata, in seminudità, con un mantello che gli ricopre parte di una spalla e la gambe. Per la mancanza di attributi specifici, risulta ardua l'indentificazione di uno specifico fiume: si è pensato al Reno, al Nilo, al Tevere o, più verosimilmente, all'Oceano.
Detta Marforio, è una delle sei "statue parlanti" di Roma, insieme al Pasquino, all'Abate Luigi, al Babuino, a Madama Lucrezia e alla cd. Statua del Facchino: sul corpo di queste statue erano affisse violente ed anonime satire in versi indirizzate ai personaggi in voga nella Roma de XIV e XV secolo, quale espressione del malcontento popolare nei confronti della classe più elevata che deteneva il potere ed il controllo della città.
The hall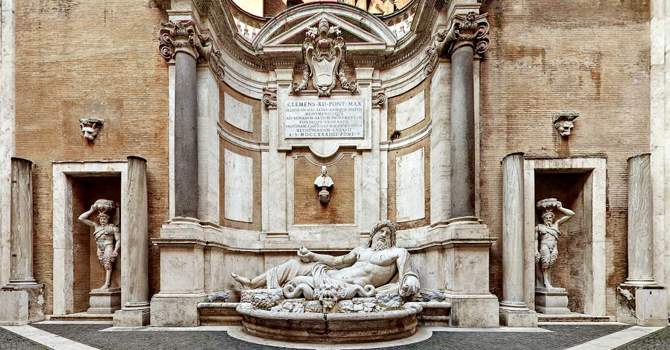 The large central niche in the end wall features a large fountain with the colossal statue of a River god, known as Marforio. 
The three large grey granite pillars with a relief frieze portraying Egyptian high priests originate from the sanctuary of Isis and Serapis in the Campus Martius. 
You may also be interested in