Courtyard
The large central niche in the end wall features a large fountain with the colossal statue of a River god, known as Marforio. 
The three large grey granite pillars with a relief frieze portraying Egyptian high priests originate from the sanctuary of Isis and Serapis in the Campus Martius.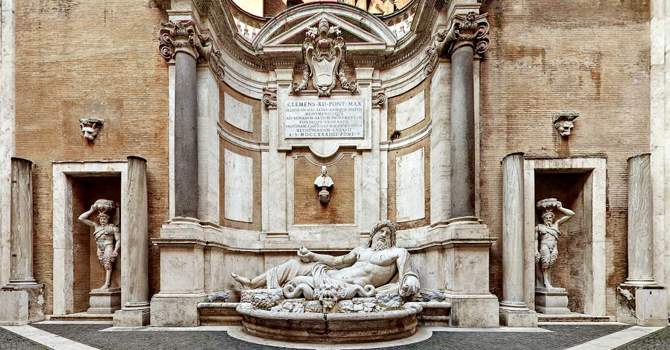 The Marforio fountain in the courtyard is a Roman work of the second century AD. When it was still located at the foot of the Campidoglio the Romans posted on it defamatory remarks, the so-called "pasquinate", against the government signed with the name of Pasquino. The statue, whose name is derived from the Martis Forum (Forum of Mars), was already known in the Middle Ages, when it was described and drawn near the Arch of Septimius Severus in the Roman Forum, and brought to the Capitoline in 1594.
The two mirror image statues known as the Satyrs "della Valle" (named after the building that originally housed them) are located on the back wall, which served as a monumental facade, in niches on either sides of the Marforio. They were utilized in the theatre of Pompey as "telamons," or figures of architectural support.
An inscription is placed above, commemorating the formation of the Museum in 1734 and the construction of the fountain, surmounted by a portrait of Pope Clement XII.
Granite columns decorated in relief with Egyptianizing scenes, from the great temple of Isis in Campus Martius are also located in the courtyard.