Statue of Minerva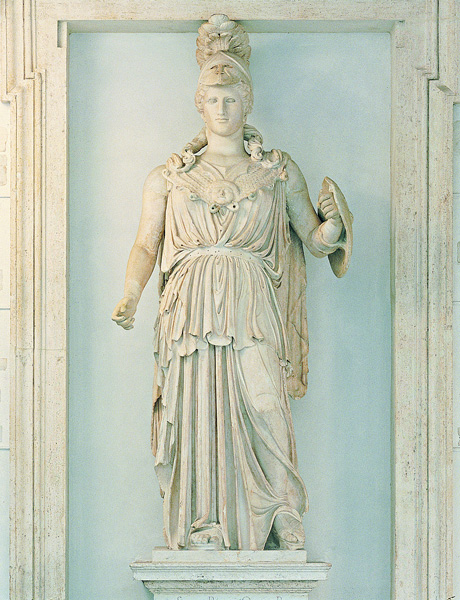 Size:
alt. 329 cm larg. 93 (alle spalle), 68 (al bacino), 34 (alle tempie) cm
Origin:
Campidoglio, Musei Capitolini (dal 1534-1549)
La dea è abbigliata con un lungo peplo, cinto subito al di sotto del seno da una fascia, originariamente in metallo. Dalle spalle scende lungo la schiena un mantello, che sul davanti prende le forme della consueta egida (una pelle di capra) protetta dalla testa di gorgone centrale e dai serpenti. Il braccio sinistro, piegato e discosto dal corpo, regge uno scudo (forse frutto di un restauro settecentesco, in luogo del precedente scudo metallico); nella mano destra doveva esservi una lunga lancia, poggiata al suolo. Sul capo indossa un alto elmo, anch'esso frutto di vari interventi di restauro a sostituzione del tipo consueto, corinzio e metallico. La statua deriva da un originale attico della fine del V secolo a.C.
The hall
Along the walls of the long porticoed ground-floor corridor opening onto the Courtyard there are large niches with statues, including colossal representations of Minerva and Mars.
You may also be interested in