Statue of Young Centaur signed by Aristeas and Papias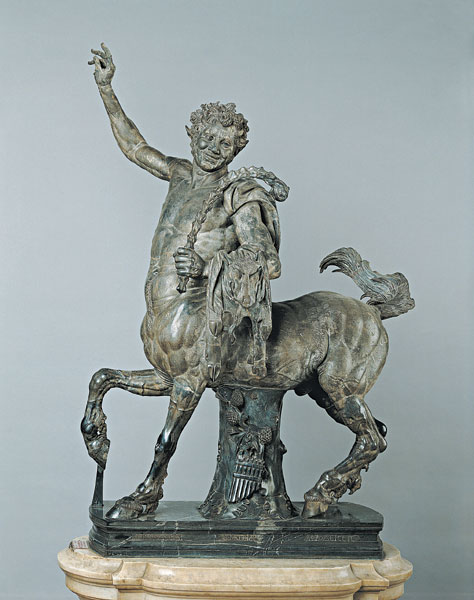 Year:
Hadrianic period (117-138 AD)
Origin:
From Tivoli, Hadrian's Villa (1736)
Located in the center of the room, the two statues were found in Hadrian's Villa in Tivoli during Cardinal Furietti's excavation. In 1765, Clement XIII acquired the statues for the Capitoline Museum. Aristeas and Papias, artits from Aphrodisias, a city in Asia Minor, signed the sculptures, made of bigio morato marble. Aphrodisias had a schoolf of skillful copyists of Greek works. In the last decades of the first century AD, some of these artists moved to Rome, where the munificence of the emperors and private citizens provided continual, well-rewarded work. These statues are very famous due the great skill and the rarity of the material, a prized marble extracted from the quarries on the promontory of Cape Tenaros in Lakonia. The young centaur is happy and joyful.
The hall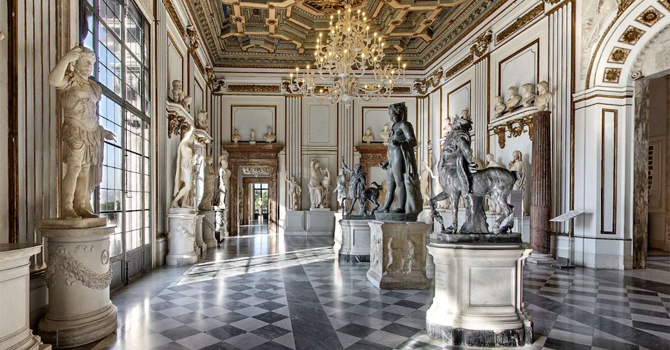 The great central hall has preserved its original wall decorations and its XVI century gilded wood coffered ceiling. 
In the centre we can see a row of statues in coloured marble, including two centaurs from Hadrian's Villa, both are the work of Greek sculptors. 
Other important sculptures, statues of emperors and reproductions of Greek masterpieces are also arranged along the wall.
You may also be interested in