La Conquista della Modernità - Sèvres, 1920/2008
Immagine: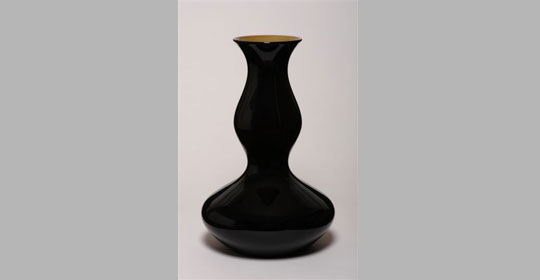 12/12/2008 - 08/03/2009
Musei Capitolini
For the first time in their history, the Capitoline Museums are playing host to a quite unheard of historic, formal and aesthetic meeting of its in-house permanent collections and a newly created exhibit of contemporary porcelain and designs from the National Sèvres Factory.
Thanks to a initiative undertaken by Rome City Council's Department for Cultural Policies and Communications and the Heritage Superintendency, in collaboration with the International Pottery Museum in Faenza, the loan of more than one hundred items of china and designs from the National Sèvres Factory provide a unique overview of the creative output of one of the most famous porcelain factories in the world during the 20th and 21st centuries.
And the host of this unique historic, formal and aesthetic meeting between this newly created contemporary collection and the older, permanent collections, is the Capitoline Museums.
With pieces produced from the Art Deco period through to more recent times, by Jaques-Emile Ruhlmann, Louise Bourgeois, Alexander Calder, Serge Poliakoff, Pierre Alechinski, Richard Peduzzi, Arman, Fabrice Hyber and Anne and Patrick Poirier, this exhibition sets out to show just how varied Sèvres china can be thanks to the juxtaposition of the traditional methods used to produce porcelain since the end of the 18th century and the modernity of the shapes and decorations introduced by the creative minds Sèvres has invited into the productive process in more recent times.
The "Useful and enchanting" exhibition held in the Capitoline Museums in 2000 featured items produced during the 19th century, whereas this latest event highlights the importance Sèvres places in contemporary creativity in all its guises. Many of the pieces are unique, some are being shown for the first time and are the work of either artists already enjoying international acclaim or those just embarking on their careers and for whom this experience represents an important stage of their professional lives, including Bertrand Lavier's "La Bocca" (the mouth) designed for the Louvre, which represents absolute technical prowess, Johan Cretan's sensual sculpture, entitled "Odore di Femmina de Sevres" (the scent of a Sèvres woman), an exceptional vase by Pierre Soulages commissioned by the President of France, the curious objects produced by Céline Cléron, and Clémence Van Lunen's "Dragon dans les nuages" (dragon in the clouds) and a surprising display comprising 60 roses made in perfumed "biscuit", created to mark the 250th anniversary of the Sèvres Factory on its present site.
One part of the exhibition pays homage to Italian designer Ettore Sottsas, who only recently died, ,marking his contribution to Sèvres with some of the most innovative shapes in its range, that are being shown in Italy for the first time ever.
The exhibition travels to the International Pottery Museum in Faenza between 20 March and 7 June 2009.
The bi-lingual Italian-French catalogue produced by Editions Courtes et Longues in Paris features articles by both Italian and French experts on 20th century china alongside a rich array of visual images.
Catalogo:
Éditions Courtes et Longues
Information
Opening hours
Open Tuesdays to Sundays between 9 a.m. and 8 p.m.
N.B. ticket office closes at 7 p.m.Open on 24 and 31 December between 9 a.m. and 2 p.m.
N.B. Ticket office closes at 1 p.m.Closed on Mondays, 25 December, 1 January and 1 May.
Special Openings on: Monday 29 December 2008 and Monday 5 January between 9 a.m. and 8 p.m. Ticket office closes at 7 p.m.
Entrance ticket
A single integrated ticket provides entry to the Capitoline Museums and the Exhibition: Full price: €8,00 Reductions: €6,00. Free entry for those set out in the current pricing policy.
Tickets and reservations
Information
060608 (every day 9.00am - 10.30pm)
Type
Exhibition|Contemporary art
Organization
Zètema Progetto Cultura
Sponsored by
Banche Tesoriere del Comune di Roma: BNL, Banca di Roma, Monte dei Paschi di Siena
Vodafone.
Promossa da: Comune di Roma, Assessorato alle Politiche Culturali e della Comunicazione, Sovraintendenza ai Beni Culturali
Manifattura Nazionale di Sèvres
M.I.C. Museo Internazionale delle Ceramiche in Faenza
With technical contributions from
Progress Fine Art
La Repubblica
Servizi di Vigilanza Travis
Eventi correlati
Currently there are no ongoing activities.
There are no planned activities.
There are no archived activities.