Hall of the Emperors
Portraits of the emperors and empresses and other important personages of the Imperial Age are lined up on the marble shelves along the wall, though in some cases their attribution is in doubt. 
The collection testifies the development of Roman portrait painting from the Imperial Age to the Late Ancient period.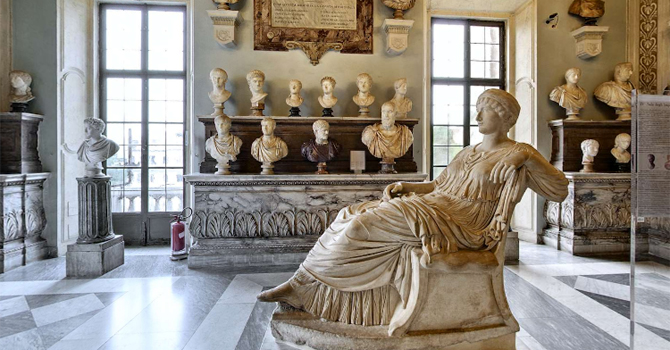 The setting-up of the hall dates back to the first arrangement of the Museum: here the portraits of the Roman emperors and characters of the imperial families, mostly collected by Cardinal Alessandro Albani, were exhibited.
The rich series of imperial portraits represented one of the most precious features of the Albani collection, purchased in 1733 for the Capitoline Museums by Pope Clement XII as the founding nucleus of the new museum, inaugurated the following year.
The portraits are displayed in chronological order, on a double row of shelves. Starting from Augustus up to the portraits of late antiquity, the 67 portraits preserved in the hall allow us to follow the development of the different stylistic currents linked to official portraiture.
From the classical composure of the portraits of Augustus and his wife Livia (depicted as Ceres), also adopted by members of the Julio-Claudian family such as Germanicus, Agrippina Maggiore and Nero, we move on to the more realistic and individual features of the portraits of Vespasian and Titus, Flavian dinasty emperors, and of Trajan. The portrait of the "Dama Flavia" (so-called "Busto Fonseca") also dates back to this period, an extraordinary masterpiece of ancient sculpture, both for its expressive power and for its technical expertise.
With Hadrian, the first emperor to adopt a beard, the portraits are based on Greek models, as well as with Antoninus Pius, who is openly inspired by images of philosophers.
These types, permeated by accents of greater realism, characterize all the portraiture of the second century A.D., from Marcus Aurelius to Septimius Severus; with Caracalla the heroic aspect linked to the exercise of power is privileged.
For the emperors of the III century A.D. (Massimino Trace, Pupieno, Traiano Decio, Gordiano III), the period of the crisis of the empire, the military skills and the character of emperor-soldiers are highlighted; among these, Gallieno instead returns to privilege the classical tradition.
At the center of the hall there is the seated statue of Helen, mother of Constantine, depicted according to a classic model created by Phidias for an image of Aphrodite.
In the walls there are important reliefs, among which the one with the myth of Perseus freeing Andromeda and the one with the sleeping Endymion, both from the age of Hadrian, should be noted.