Statue of Minerva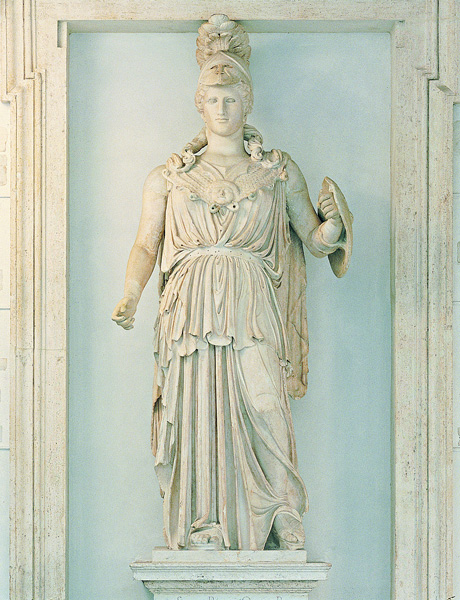 La scultura, di colossali dimensioni (oltre tre metri di altezza), era in precedenza collocata sotto la scalinata del Palazzo Senatorio, sulla piazza, e nel portico del Palazzo dei conservatori.
 La dea è rappresentata stante, con la gravitazione sulla gamba destra e la sinistra in appoggio. Veste un ampio chitone, con pieghe rese a scalpello, fermato in vita da un cinturone sul quale sono visibili i chiodini di attacco del metello. Alcuni perni per il fissaggio di parti di diverso materiale si trovano anche nell' apoptygma, sul petto. La testa e le braccia sono assemblate secondo la concezione dei grandi acroliti. Il volto, sormontato dall'elmo, mostra le cavità oculari vuote, in origine colmate con pietre dure e metallo. La scultura si ispirava, dunque, direttamente alla celebre statua crisoelefantina (in oro e avorio) che Fidia realizzò per il tempo ateniese della dea nella metà del V secolo a.C., e fu forse realizzata da maestranze greche nell'ambito del II secolo a.C. per un tempio di grande significato.
The hall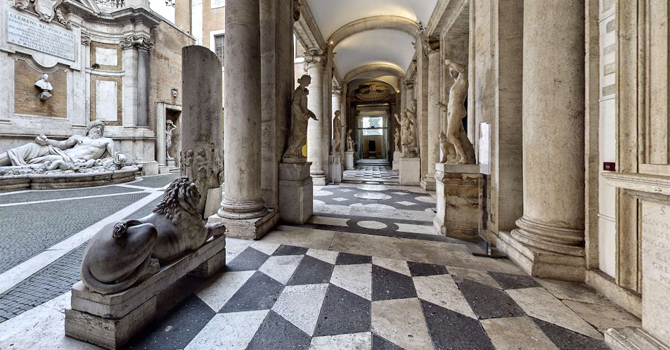 Along the walls of the long porticoed ground-floor corridor opening onto the Courtyard there are large niches with statues, including colossal representations of Minerva and Mars.
You may also be interested in