Halls of the Horti Tauriani - Vettiani
The vastness and splendour of the home of Statilius Taurus, an eminent personality in the Rome of the I century AD, was perhaps at the heart of his conviction for magic, apparently inspired by Agrippina so as to seize the property for the Imperial domain. 
The area of the Horti was later broken up into a number of properties and under Gallienus in the middle of the III century AD went back to being a part of the Horti Liciniani; it has also been discovered that in late antiquity the home of Vettius Agorius Praetextatus (Horti Vettiani) was there.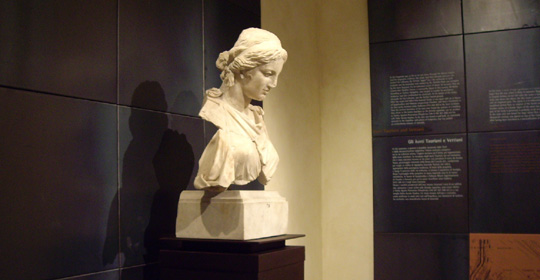 From this area come numerous sculptures that are attributable to the various phases of the history of the Horti: statues of divinities, reliefs with views or decorative motifs, two large marble craters and three splendid Imperial portraits of Hadrian, Sabina and Matidia.
From a Greek original of the 4th century BC by Kephisodotos