Capitoline She-wolf
The She-wolf, with its evocative power, is the symbol of the city. The donation of Sixtus IV brought the statue to the Capitoline Hill. Initially, it stood in the fifteenth century facade of the palace. Then, it was transferred inside the palace, on the occasion of Michelangelo's architectural interventions. At that time, the twins were added, attributed to some by Pollaiolo. They transformed the ancient Lateran symbol of justice into "Mater Romanorum".
The creation of the work, which originally had probably nothing to do with the legend of Rome's foundation, can be traced back to Etruscan or Magna Graecia workshops of the fifth century BC.
The hall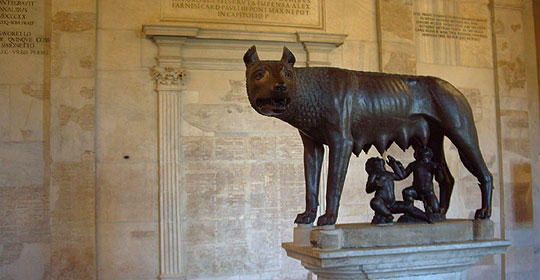 Ever since the middle of the 16th century, when it was an open three-arched loggia, this room has contained the bronze Capitoline She-wolf, which has become the symbol of Rome. 
Embedded in the walls are fragments of Consular and Triumphal Fasti, lists of magistrates and triumphal victors from the time of the republic to the Augustan Age discovered in the Roman Forum and part of an arch dedicated to Augustus.  

You may also be interested in