Hall of the Philosophers
The arrangement of this collection of portraits of Greek and Roman philosophers and men of letters, very popular with the Romans for the decoration of their public and private buildings, is along the same lines as that in the Hall of the Emperors. 
Many of the portraits are late reproductions and were carried out long after the lifetime of the characters they represent.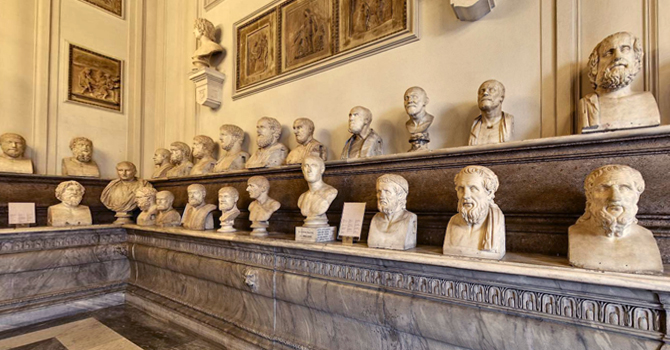 The hall contains the busts of poets, philosophers and orators of Greek antiquity, whose images, in Roman times and then in the Renaissance, decorated public and private libraries, homes, villas and parks of the wealthy and sensitive lovers of Arts and Philosophy .
Many of the portraits present are "reconstruction", that means that they were created decades after the death of the person represented and can be brought back, with rare exceptions, to fixed patterns: therefore, we can recognize the type of strategist, philosopher, poet, playwright elaborated as an glorification of the intellectual and spiritual values ​​of the famous personalities; from the Hellenistic age, however, portraits tend to reproduce the different countenances with a certain fidelity.
To be noted:
- the numerous portraits of Homer, which the legendary blindness of the poet is emphasized in;
- the depictions of Socrates, according to the model created by Lysippus fifty years after the death of the philosopher on the basis of the description that the disciple Plato made of him;
- the two-faced herm with the portraits of Epicurus and Metrodorus, teacher and pupil.
Among the many portraits of Greek intellectuals there is also the splendid effigy of Cicero, a work of the late Republican age that highlights the physiognomic elements of the character but also celebrates, with great expressive power, the virtues of the politician.
The statue sitting in the center of the hall, which a head not its own has been superimposed on, follows the models of the portrait statues of the 4th century BC.
On the walls, to be noted the fragment of the sarcophagus with the transport of the body of Meleager, a source of inspiration for Raphael in the creation of the "Deposition" preserved in the Borghese Gallery.
In 2013, 23 architectural reliefs of an ornamental, sacred and funerary character and 5 Roman-era portrait busts were restored thanks to the generous offer of 110,000 Euros from the Azerbaijani Embassy, ​​on behalf of the Heydar Aliyev Foundation.