Hall of the Captains
The frescoes on the wall, by Tommaso Laureti, date back to the end of the XVI century. They refer to the early Republican Age and portray exemplary episodes of ancient Roman valour in the form of tapestries. 
The Room also contains stone tablets and portrait statues commemorating famous men and Captains of the Pontifical Militia.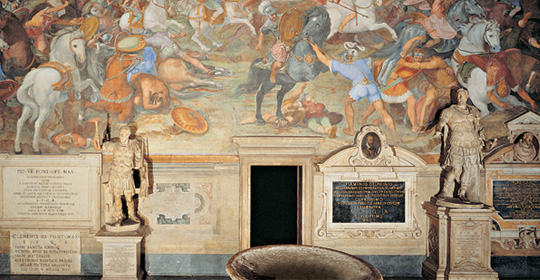 The fresco decoration of the hall was carried out between 1587 and 1594 by Tommaso Laureti (1530-1602), who trained in the atelier of Sebastiano del Piombo.
Some episodes of bravery and civic virtues of the first period of the Republic are narrated with chromatic and impressive vivacity, ideally continuing the tale of the Horatii and Curatii (both rooms reproduce the decoration themes made in the first decade of 1500 and lost after the architectural renovation of the spaces).
Brutus' Justice: the subject of the fresco is a little-known episode narrated by the historian Livy. The first consuls of the Republic, Brutus and Collatinus, see the assassination of Brutus's sons, sentenced to death for high treason. For its symbolic meaning, the fresco was painted on the wall where the Court of the Conservators had been set up, with a Latin inscription "Diligite iustitiam" (Love Justice).
Mucius Scaevola before Porsena: the Roman hero, Mucius Scaevola, having failed to murder the Etruscan king, Lars Porsena, stoically thrusts his hand into the fire.
Horatius Cocles defending the Pons Sublicius: the scene represents Horatius Cocles fighting valiantly against his enemies, while the Romans were destroying the Sublicio bridge to defend the city from the Etruscans.
Victory at Lake Regillus: the Dioscuri, the mythical twin sons of Jupiter, lead the Roman army to victory in the battle against the Latins at Lake Regillus.
Also noteworthy is the coffered ceiling with painted scenes from the "Jerusalem Delivered". The paintings, attributed to Francesco Allegrini (1587-1663), were transferred to the Capitol after 1930 after the destruction of Palazzo Mattei Paganica, from which they come. The carved wooden doors were made in 1643.