Marsyas: Pride Punished
Immagine: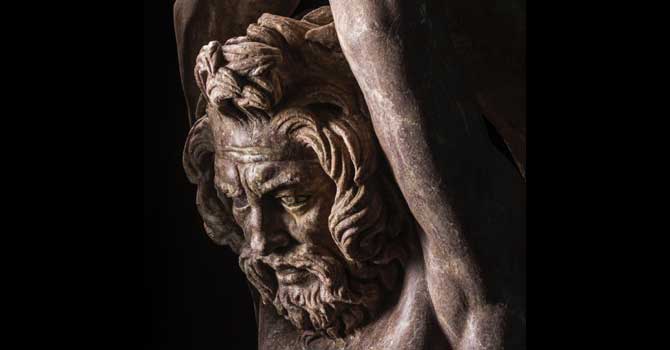 17/12/2014 - 01/02/2015
Musei Capitolini
On display a statue of Marsyas, a satyr who dared challenge Apollo to a music contest , found at the Villa Vignacce.
The Vignacce Marsyas was uncovered in 2009 at Villa delle Vignacce, a four-year excavation conducted by the Sovrintendenza Capitolina in agreement with the US non-profit American Institute for Roman Culture AIRC with international students.Since its discovery, the Marsyas statue has been in the hands of the City of Rome and conservation consortium Conart for a restoration program which included revealing precious eye details such as inlaid white glass paste, colored iris and bronze eye-lid rimming as well as identifying the provenance via its colored marble.
The 149 centimeter-high statue depicts the violent end to a Greek myth, when the satyr and would-be musician Marsyas is tied to a tree and flayed after losing a music battle to Apollo. In the Vignacce Marsyas, the bloodied skin is rendered by head, arms, torso and legs of a veiny red marble, while hands and feet would have been white marble. Unique to other figurative antiquities, the Vignacce Marsyas is almost entirely intact, missing only one hand and both feet.
The Vignacce Marsyas is on display in the Capitoline Museums' Palazzo dei Conservatori next to the Marsyas the Horti of Maecenas through February 1, 2015 before moving to its permanent location at the Capitoline's Centrale Montemartini location.
Information
Opening hours
17 December, 2014 - 1 February, 2015
Tuesday-Sunday: 9.00-20.00;
December 24 and 31: 9.00-14.00;
Last admission 1 hour before closing time.
Closed Monday, December 25 and January 1
Possible disruption to Rome's Civic Museums because of a meeting called by O.S. CGIL FP, CISL FP E UIL FPL on Friday, January 30, 2015, from 10.30 till to 15.30. 
We apologize for any inconvenience this may cause.
Entrance ticket
Sunday, February 1 and Sunday, March 1, 2015 free admission for all citizens residing in Rome in all the museums of the civic network 
Museum + Exhibitions ("L'età dell'angoscia. Da Commodo a Diocleziano" and "Marsia. La superbia punita") Combined Ticket: 
Adults: € 15,00;
Concessions: € 13,00;
Ridottissimo special price: € 2,00*;
Roman Citizens only (by showing a valid ID): 
Adults: € 13,00;
Concessions: € 11,00;
Ridottissimo special price: € 2,00*;
* Please note: According to the Municipal by-law, due to the exceptionality of the exhibition, people usually entitled to free admission must purchase a € 2,00 concessionary ticket.
However, free admission is granted to children under 6 years, groups of elementary and (lower) middle schools, to visitors with disabilities and a family member or a carer who can prove that they belong to social and health care services, and RomaPass holders (if used to access the first 2 sites).   
Capitolini Card (valid 7 days) "Capitoline Museums + Centrale Montemartini + Exhibitions  ("L'età dell'angoscia. Da Commodo a Diocleziano" and "Marsia. La superbia punita")" Combined Ticket: 
 Adults: € 16,00;
 Concessions: € 14,00; 
 Roman Citizens only (by showing a vaild ID): 
 Adults: € 15,00;
Concessions: € 13,00;
Tickets can also be purchased with a credit card and ATM
In case of cultural events the price of the tickets may vary:
future exhibitions
For the Capitoline Museums or Ara Pacis simply present your printed receipt at the turnstiles, bypassing the ticket office queue. 
For all the other participating museums the printed receipt entitles you to jump the queue at the ticket office and quickly pick up your ticket.
Information
Infoline: +39 060608 (every day from 9:00 to 21:00)
Type
Exhibition|Archeology
Eventi correlati
Currently there are no ongoing activities.
There are no planned activities.