Nell'occhio di Escher
Immagine: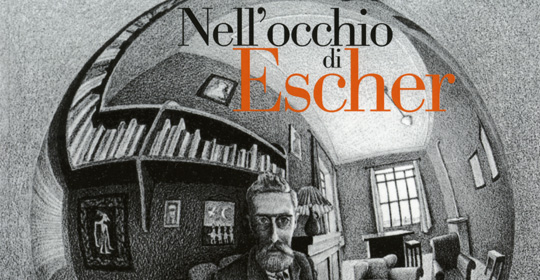 22/10/2004 - 28/03/2005
Many engravings representing the italian landscape, done by the artist during his frequent journeys in Italy and, for the first time, a set of graphic works dedicated to Rome, when the artist lived many years.
Through the display of approximately one hundred works of art offered by the Escher Foundation of Baarn and taken from prestigious Dutch museums (like Amsterdam's Rijksmuseum and the Gemeentemuseum of The Hague) as well as from private collections, the Capitoline Museums have designed an exposition itinerary that follows the creative development of the famous Nordic graphic artist, starting from his first works and ending with his more mature works that consecrated him to fame and that are surely the ones that are most familiar to the public at large.
Among the engravings on display, the ones taken from his long stay in Italy (1924 - 1935) are particularly interesting and inspiring; they are principally naturalistic and directly reflect the peninsula's landscapes and elaborate architectures.
In addition to his views of the towns perched on mountain-tops or along the Italian coastlines, on display for the first time will be a set of works dedicated to the city of Rome, mainly comprising the effects of night-light reflected on its monuments (long nights spent drawing, sitting on a foldable chair with a little torch hanging from his jacket are on Escher's list of most cherished memories of the period he spent in Rome with his family).
During the '30s, with the advent of Fascism and the gradual tightening of repression on the political and cultural life, the artist decided, albeit reluctantly, to abandon Italy and move first to Switzerland and then, in 1937, to Belgium.
These are the years that witness a profound transformation in his work: Escher does not find the Nordic landscapes equally inspiring and his interest for the visible world slowly begins to fade away and is replaced, in the last phase of his artistic production, by what he himself describes as "inner images".
His most widely admired and known works belong to this introverted and intellectualistic period, among which notice should be taken of some of the ones on display in the exhibition and in particular, Drawing Hands, Sky and Water I, Up and Down as well as one of the most admired Metamorphosis.
The exhibition, promoted by the Municipality of Rome, Councillorship for Cultural Policies - Superintendence of Cultural Heritage, in collaboration with the Dutch Institute of Rome and with the Escher Foundation of Baarn, falls within the framework of the initiatives to celebrate the 1st 100th Anniversary from the founding of the Dutch Institute in Rome.
Information
Eventi correlati
Currently there are no ongoing activities.
There are no planned activities.
There are no archived activities.